Configure it!

Other issues in this category
(32)
Close the ports!
Read:

1036
Comments:

2
Rating:

9
I would also like to know how to restrict
connections via Telnet, SHH.
Question from one of our readers
Our readers are well aware of our recommendations to shut out potential attackers by closing access to certain computer ports and protocols. We covered how to do this for ports in the issue "WannaCry. Close the ports". In much the same way, you can keep them from accessing your computer via the protocols you don't use.
Dr.Web Firewall protects your computer from unauthorised access and prevents sensitive data from being leaked over the network. The component allows connections and data transmission to be controlled and suspicious connections on the package and application layers to be blocked. In particular, it allows unused ports to be blocked.
To configure the firewall, click on the icon
in the system tray; click on the padlock

icon to make the settings accessible (the icon will now look like

). Then click on the gear icon

. In the settings window select Protection Components -> Firewall.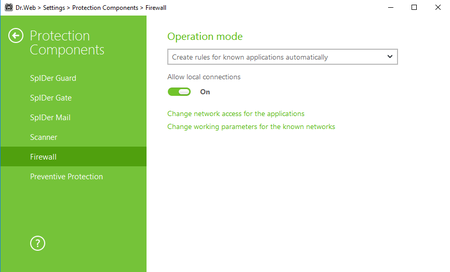 Select Change working parameters for the known networks and the network interface in use. Active interfaces will be displayed in the table automatically.
To create a set of rules for a new program, click on Create. In the windows Packet filter settings and New rule set, click on Add.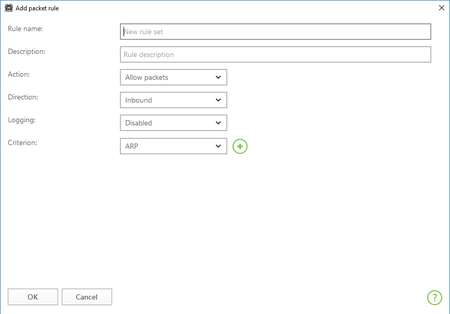 In the Criterion list, select TCP and specify the port number. The port number for Telnet is 23, for SSH –22 (you can find lists of ports here, for example: https://en.wikipedia.org/wiki/List_of_TCP_and_UDP_port_numbers).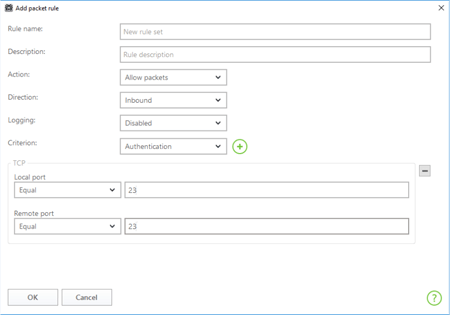 Press OK.
#firewall
#Internet
#firewall
_configuration
#Dr.Web_settings
#traffic_scanning
#Dr.Web_technologies
Dr.Web recommends
Use Dr.Web Firewall's features to the maximum! Read "Come on in—the door's open" to learn about one more feature this component offers.