The workshop

Other issues in this category
(32)
Everything's protected!
Read:

1708
Comments:

2
Rating:

15
Thursday, April 27, 2017
Cybercriminals use any means possible to break into a victim's computer—for example, scripts.
The advantage of scripts is that they can be used across different platforms: the same script can be run on a variety of devices and operating systems. And virus writers have duly taken note of that.
Does that scare you? In reality, malicious files implemented with the help of JavaScript are used for more than simple goals—e.g., downloading malicious files. And they don't cause any problems for a browser. Just opening any Doctor Web monthly review will convince you that JavaScript is popular among virus writers:
Of course, anti-virus developers could not help but notice this threat, and in 2011 a new technology was added to Dr.Web.
The convenience of scripting languages is that they automate day-to-day actions, without requiring the installation of development tools. To use a scripting language, it is enough to have the simplest text editor installed and the corresponding operating system component responsible for executing the corresponding scripts. The fact is that JavaScript is not the only scripting language you can come across on your computer. For all its convenience, this language is optimised to be used in browsers. In this regard, Microsoft has developed an equivalent for JavaScript—JScript. JScript is executed with the help of Windows Scripting Host (WSH).
An example of JScript:
Another scripting language is PowerShell.
And the corresponding threat:
Do you want to check whether PowerShell can be executed in your system? Click on Start → Run → powershell.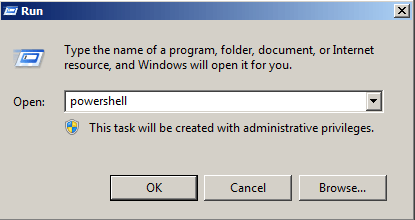 Because cybercriminals are using JScript and PowerShell, Dr.Web's protection needed to be enhanced further. As a result, the Dr.Web Amsi-client protection module was developed. Its task is to check running scripts—PowerShell, JavaScript and VBScript.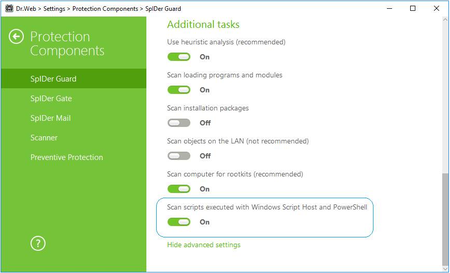 This feature, available in Dr.Web Anti-virus for Windows and Dr.Web Security Space, operates on computers running Windows 10 (x 86, x 64) and Windows Server 2016. Dr.Web Office Amsi can be managed from the SpIDer Guard configuration tab.
#JavaScript
#ScriptHeuristic
#Dr.Web_technologies
#vulnerability
#Windows
#terminology
#cybercrime
The Anti-virus Times recommends
Updates are not made for anti-virus products just so users can be reminded of them for the umpteenth time. Behind each update message you get are serious fixes and improvements. If the anti-virus needs rebooting, it probably means your protection needs to be enhanced to deal with emerging, new threats. Do not ignore these requirements—it is better to spend a few minutes for a reboot than to have to deal with the consequences of a sudden infection.