Android territory

Other issues in this category
(22)
Greedy little families
Read:

5609
Comments:

3
Rating:

43
Friday, August 12, 2016
The modern-day phone has gone far beyond being just a means of communication or an alarm clock. It's a multi-purpose device that combines a variety of features―almost all the things that make us who we are.
Any self-respecting bank is equipped with a special mobile online banking application and encourages its customers to use its services. Online banking comes with many benefits. For customers, being able to use their mobile devices to immediately access their financial information is very advantageous. It's advantageous for banks, too, because this decreases the workloads of staff and ATMs, which translates into money saved on maintaining the business. Going forward, banks will only continue to develop mobile technologies!
And cybercriminals understand this, too.
Smartphones and tablets used to carry out transactions have long been a favorite target of cybercriminals.
The mobile phone has become an object for attack by Trojans, especially banking Trojans.
Banking Trojans for mobile devices — families (i.e., varieties) of malicious computer programs whose main goal is to steal information for the purpose of accessing mobile banking applications with the goal of then stealing money from account owners, including via these same mobile banking applications.
Since Android devices are the most popular with customers, this platform is targeted the most.
In 2015, more than a billion Android devices were sold!
Malicious programs have been infecting Android devices for a long time. The first malware for Android appeared in 2011. The Dr.Web virus database contains the entries of more than 270 representatives of different banking Trojans, and even more Trojans were detected with the help of Origins Tracing™. In upcoming Anti-virus Times issues, we'll describe the malicious activity of these Trojans, as well as how they penetrate mobile devices.
In 2015, Dr.Web for Android anti-viruses detected more than 880,000 incidents of various banking Trojans penetrating smartphones and tablets.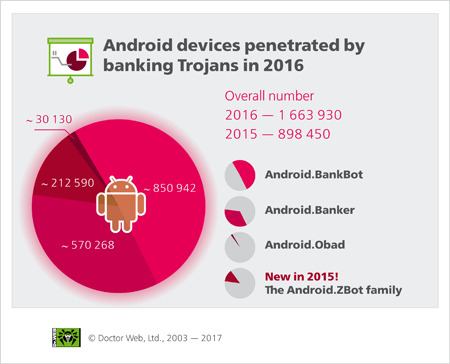 Total quantity — 880 000
Android.BankBot — 275 598
Android.Banker — 91 850
Android.Obad — 469 000
New in 2015! Android.ZBot — 62 000
Graph showing the malicious activity of banking Trojans in 2015:

#Android
The Anti-virus Times recommends
While taking full advantage of the present-day capabilities of mobile technologies, users must not forget to take elementary precautions.
If you use your mobile phone to make payments, you must install an anti-virus on it prior to installing the mobile banking application.
It's advisable to update your anti-virus before each online-banking session. The latest updates can prevent the most recent threats from infecting your phone.
Never use mobile online-banking applications via Wi-Fi in public places. Criminals often steal authentication data there.
Change your online-banking password at least once a month.
If any money gets stolen from you, immediately inform your bank about the unauthorised transaction that has been carried out with your account.