Configure it!

Other issues in this category
(40)
How to configure Dr.Web Parental Control on a computer
Read:

16388
Comments:

1
Rating:

2
Thursday, June 17, 2021
As promised in our recent Anti-virus Times issue, we are devoting a separate article to one of the key components of Dr.Web's protection—Parental Control. This module is particularly important if a child has access to your computer, but we strongly recommend that it be used to protect any PC regardless of the owner's age. It's no wonder that Dr.Web business products incorporate the same component—Office Control, which protects adult users. To examine the Parental Control features and settings, let's take as an example the latest, 12th version of our main home product—Dr.Web Security Space for PC protection.
But first, a few words about the Parental Control features. As a rule, users perceive Parental Control to be a module that restricts access to unwanted and dangerous sites, but in fact its features are somewhat broader.
What can Parental Control do? It can:
regulate access to various sites (by categories of resources and using black and white lists);
limit PC and Internet usage time in general;
limit access to certain files and folders on a computer.
Parental Control is enabled by default, but it works in the "No restrictions" mode. So, immediately after you install Dr.Web on your computer, we recommend that you configure this module according to your needs.
To configure Parental Control, click on the Dr.Web icon on the taskbar; click on the item Security Center and in the newly-appeared window, click on Parental Control. To change the parameters, the anti-virus should be working in the administrator mode (note the padlock in the lower part of the Dr.Web window; it should be open).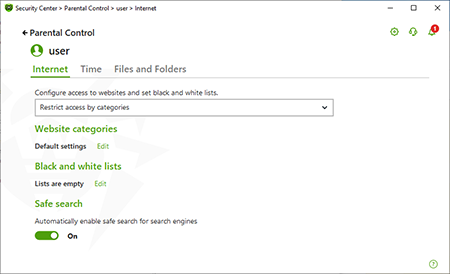 In the module's settings, you will see three tabs: Internet, Time, and Files and Folders. Let's open each one.
Internet
Here, in addition to the "No restrictions" option, there is a choice of two settings options:
Restrict access by categories.
Allow access to websites from the white list.
If you choose the first option, settings are configured by default: from 14 currently available site categories, access to 7 of them is restricted: Adult content, Violence, Weapons, Gambling, Drugs, Terrorism and Obscene language.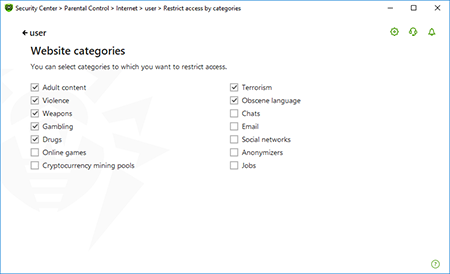 If necessary, you can add additional ticks—for example, to restrict access to social networks and online games if your computer is used by a child who has not yet learned to control their own time.
Having dealt with the categories, take a step back and look at Black and white lists. Of course, initially, these lists are empty, but you can add certain sites to them—access to them will be either allowed or restricted, regardless of the settings by categories. For example, if you add the domain facebook.com to the white list and check the box Social networks, a user can visit Facebook while other social networks will remain inaccessible to them. In turn, using a black list, you can restrict access to resources that are not covered by the categories.
Another useful configuration is located in the Internet tab—Safe search. If you enable the toggle, unwanted resources will be excluded from search results, no matter what the request is.
Time
Let's go to the next tab. PC and Internet usage time is not restricted by default, but it can be configured very flexibly if necessary.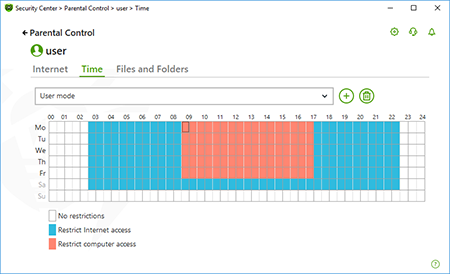 In this case, there are 2 settings options available:
User mode.
Interval time limit.
The first option is best suited to introduce situational restrictions—for example, for the duration of an examination your child is taking. You can set 30-minute intervals during which they will not be able to use the Internet (blue rectangle) or log on to the system (red rectangle). By the way, to the right of the mode selection row, you can see the "plus" icon—use it to create time limit settings profiles so that you can subsequently switch between them. For example, you can instantly change the rules at the end of the academic year when school break starts.
The interval time limit allows users to quickly adjust the settings according to existing templates: Monday—Friday, Saturday and Sunday, night time. In each case, you can set the amount of time during which access to the computer will be open (or closed).
Files and Folders
This option will be especially useful if your family members use your computer: for example, during the day, parents use it, and in the evening—children use it to play games. So, to prevent situations when your important documents or system files could be deleted (damaged, renamed, edited or completely blocked) by accident or due to mischief, you can configure the settings so that they only open in the reading mode.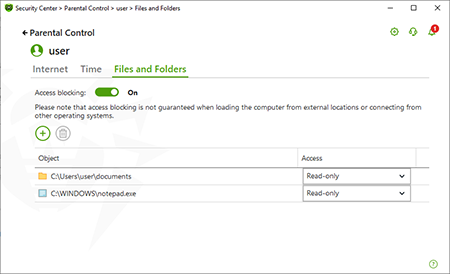 To activate this setting, toggle the switch to the On position, use the "plus" icon to add objects (these can be either files or entire folders) and choose Read-only or Blocked from the drop-down menu on the right.
#children #Internet #Dr.Web_settings #non-recommended_sites #Parental_Control
The Anti-virus Times recommends
After you have configured Parental Control, you should immediately protect your settings to prevent unauthorised changes, especially if small users don't yet realise the importance and benefits of the restrictions you've set. After all, if the settings are available, the child will be tempted to change them for their own benefit.
To protect the settings, click on the gear icon in the top-right corner of the Dr.Web window, and in the General tab (it will open by default) under the line Protect Dr.Web settings with a password, toggle the switch to the On position, and then set and confirm the password.
We want to remind you that Parental Control is a necessary measure, but it's not enough when it comes to children. Talk with your child about Internet safety; explain to them that the World Wide Web is not a place where they can do whatever they want. If you have not read our issue "Where online security starts for a child", we strongly recommend that you do so: it is dedicated to topics that should be discussed with growing Internet users.