Food for thought

Other issues in this category
(28)
About the flexible features of our subscription-based Dr.Web Anti-virus
Read:

17210
Comments:

1
Rating:

3
Friday, May 7, 2021
Recently, in connection with Dr.Web's birthday, we recalled the main challenges encountered by Dr.Web during the past 29 years. We mentioned that Spider's Web, designed by Igor Danilov, became the prototype for Dr.Web. Today, we want to remind you that despite the fact that the Dr.Web anti-virus is a union of technologies, a single core, and a single team, over the years of their development, our products have taken a variety of forms in accordance with the needs of users. We'll tell you about one of them—the subscription-based Dr.Web Anti-virus.
But first, some history. The Dr.Web AV-Desk software, which serves as the basis upon which users receive the subscription-based Dr.Web Anti-virus, was released in the now distant 2007. We can say in all modesty: Doctor Web was the first to propose using an anti-virus in a subscription format, which provides users with the flexibility to adjust the term of protection. Before that, users could buy anti-virus products in the form of licenses for a period that was a multiple of one year (from 1 year and up). This was, and still remains, convenient and safe, but this model does not have flexibility when it comes to changing a license's term and what protection components are included, and therefore, it does not allow the user to save money in case their plans or needs have changed.
Meanwhile, a dynamic digital life required flexibility—and the possibility within the subscription model to use the protection in convenient "doses" came in very handy for users. Of course, this flexibility is also needed now. So it's not surprising that today the subscription-based Dr.Web Anti-virus protects more than 1.5 million users worldwide. The convenience and benefits of a subscription are valued by clients and suppliers from different countries: in Russia, Ukraine, Kazakhstan, France, Austria, Estonia, Spain, the Netherlands, Austria, Germany, Portugal, Bulgaria, Mongolia, Kyrgyzstan, and Belarus...
So, what exactly makes the subscription-based Dr.Web Anti-virus so flexible? While a Dr.Web license can be purchased for 1, 2, or 3 years, a subscription can have a term of 1 month and on to infinity. The electronic license cannot be suspended—users can "freeze" their subscription for a period of up to 60 days and keep the days they've paid for. All actions taken with the license require contact with the seller and the replacement of the serial number, while a subscription is automatically renewed, or with just a few clicks, the user can select new parameters for it in their personal account area. Therefore, no circumstances—from taking a sudden sick leave to going on a long holiday—will lead to the anti-virus at some point in time having been paid for in vain.
As you know, Dr.Web is designed to protect both home and business users, and it is compatible with all the popular operating systems, including server and, of course, mobile ones. This versatility is preserved when the subscription-based Dr.Web Anti-virus is used.
For individual users, a subscription is available in the following versions: Dr.Web Premium—comprehensive protection for both PCs and Android mobile gadgets, and Dr.Web Mobile—protection for Android against all types of malware targeting this platform. Moreover, a Dr.Web Mobile subscription has no end date. For corporate users, we offer Dr.Web Premium for business users—comprehensive protection for both PCs/servers and mobile devices.
The subscription-based Dr.Web Anti-virus protects against numerous types of modern-day threats, whether they're trojans, encryption ransomware, spyware or miners. It prevents the theft of confidential information and the spread of spam; it thwarts phishing, farming, scamming, cyber fraud, unauthorised network access, and many other activities. With its non-signature protection technologies, Dr.Web is able to deal with the latest malware programs that haven't yet come under the spotlight of virus researchers and been added to our virus databases.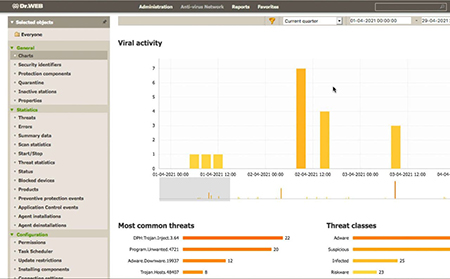 Like all users of our anti-virus, subscribers can always take advantage of our technical support service: to send a support request, just select the "Support" section in the Dr.Web menu and click on "Technical support". Also, the customer can ask a question and get an answer on this page.
Among the advantages of a subscription for business use, we'll highlight the following: when a legal entity is given the possibility to install its own anti-virus server, it gets virus software statistics presented in visual form—in pie charts and graphs. When professionally managed by a supplier, the subscription-based Dr.Web Anti-virus may further include collecting and analysing statistics on virus events on all protected computers and providing this information to clients.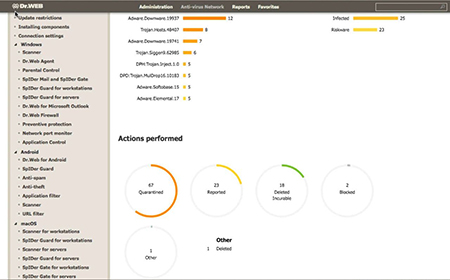 #anti-virus_scan #malware #paid_subscription #Dr.Web_technologies
The Anti-virus Times recommends
If you are missing out on being able to configure your anti-virus license parameters more flexibly and quickly, use the flexible features of the subscription-based Dr.Web Anti-virus.
You can subscribe via Doctor Web partners or directly on our site. Please note: in the latter case, you can only take out subscriptions for home with a term of 3 months or longer and Dr.Web Mobile Life.