Food for thought

Other issues in this category
(27)
Messages from messengers
Read:

12885
Comments:

7
Rating:

9
Wednesday, January 20, 2021
The end of the outgoing year will be remembered, among other things, for news that shows how widely we use commercial messengers in our lives. It turned out that route information about the movements of protected persons (the President, the Prime Minister, the chairman of the Federation Council, the executive management of the Security Council, the FSB, the leaders of foreign states) was being collected in WhatsApp chats. And not by just anyone, but by employees of the Special Purpose Center For Road Safety. It turned out that these chats, whose data is updated daily, have already been in existence for three years. They contain tables with the call signs for the objects guarded by the state, their car numbers, the time of cortege departures, their destinations, and the full names of the inspectors from the accompanying motorcades. That information came to light accidentally due to a dissatisfied employee, so it remains only to guess what other secrets are being collected this way.
Against the background of the scandal which, according to reports, caused the dismissal of the Head of the Moscow Traffic Safety Inspectorate, another piece of news looks interesting—already at the beginning of this year, WhatsApp has made changes to its privacy policy, and commencing February 8, 2021, it will start transmitting all the personal data of its users to the Facebook advertising system. And it will be impossible to disable this option. Users who don't agree with the changes, won't be able to use WhatsApp any more—their accounts will be blocked.
And it has turned out that such users are many—a kind of ultimatum has caused a massive outflow of users to Signal and Telegram. And that is despite the fact that WhatsApp, owned by Facebook, previously collected data (following certain rules that had been established by this company and using its own data centers or leased ones). None of the tens of millions of users cared. But as soon as WhatsApp followed a typical American formality and reported that the data would be transferred to another company (within the same group), users panicked and "rushed" to applications where data is not relayed to other parties.
Meanwhile, not only Facebook collects data—it only leads the list of those who have maximum information about their users (by the way, take a look at its "Data usage policy").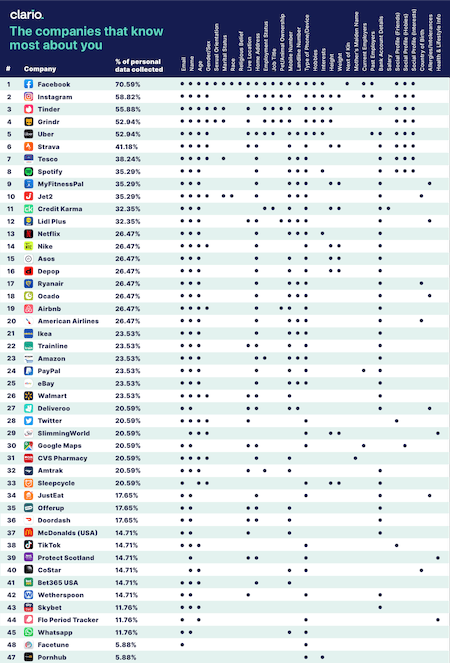 All services collect data—some do this to really improve the quality of their customer service, while others do it to sell the received information. But in both cases, there is a risk of data leakage. And not only because of the inattention of service administrators who made the service available on the Internet, or due to hacking. We can add a new reason to this traditional list: "because of the blocking wars". Thus, on January 11, 2021, a third party could download almost all of the Parler social networking service's content in connection with the blocking actions.
Social networks are collecting user data—and deciding for themselves what can be published and what cannot be. They are determining what is true and what is false. Social networks and services are deciding whom to block and whom not to.
So far, everything is limited to financial losses and lawsuits. Shares of Twitter on preliminary trading on the New York Stock Exchange fell more than 7% after January 8, when Twitter permanently blocked the personal account of US President Donald Trump because of the risk of "incitement to violence". A provider from Northern Idaho blocked access to Facebook and Twitter because of censorship. The Parler social network filed a lawsuit in Seattle federal court against Amazon, which on January 11 disabled Parler's social media because it had content that incited and condoned violence against the background of the current situation in the USA (but more likely because the network is massively used by Trump supporters).
A growing number of signals indicate that the Internet is moving towards the Clusternet era, where a single network will actually be divided into segments each of which will have its truth and lies. And its own censorship—public or private.
The Anti-virus Times recommends
The security of communication services is not absolute. Often communication occurs without the use of encryption, and the data can be accessed by government agencies (and not only in Russia).
If possible, do not publish your personal data. Once information is published on the Internet, it's permanent.
Do not use messengers and social networks to transmit and store sensitive and critical information.
#legislation #data_loss_prevention #license_agreement #messenger #social_networks