Terminology

Other issues in this category
(40)
The many faces of Linux
Read:

45798
Comments:

14
Rating:

14
Friday, August 7, 2020
There exists a huge variety of Linux distributions. Virtually everyone can use the Linux kernel created by Linux Torvalds to make their own distribution.
In a menagerie of this kind, compatibility issues are unavoidable. However, Linux is not the only system that makes room for creativity. Although Android also uses the Linux kernel, it doesn't rival Linux in terms of the number of available distributions.
However, Android is an open-source operating system. And while Google develops it, Nexus phones are probably the only devices that are guaranteed to run stock Android—after all, these phones are designed and maintained by Google itself. All other device manufacturers modify Android. Some of them make big changes, while others only introduce minor tweaks. Some include useful utilities in their Android builds, while others add malware.
The Android operating system is completely open source. That means anybody—even Android competitors—can choose to download, install, modify, and distribute its source code for free.
Why is that so? Manufacturers don't have to commit their resources to develop an operating system from scratch.
Fire OS is a good example. It is based on Android, and Amazon didn't have to pay license fees or spend money on designing an operating system of their own.
As a matter of fact, this issue was inspired by a search query.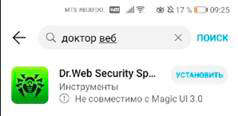 The author decided to find out more about an operating system he knew nothing about. And it turned out to be Android too. Magic UI 3.0 is created by Huawei. It uses a different boot-up animation and offers a variety of customisation options and flexibility to match user preferences. It also uses new icons and animations to give the impression that it is an original and innovative product.
And then there are also alternative versions of Android:
There exist enthusiast communities developing open-source versions of Android firmware, such as CyanogenMod, MIUI and AOKP (Android Open Kang Project). The modified versions are created to add new settings, options and features and remove Google services to prevent user information from being transmitted to the company's services. That, for example, includes real-time location data (something that spawned a lawsuit). Other open-source Android-based operating systems may also enjoy more frequent releases of new versions.
Gadget users can replace the firmware from their manufacturer with these alternatives. Of course, they do so at their own risk.
As a result, Android software developers have to test their apps not only using Google's original firmware, but also on devices from other leading manufacturers. If the UI has been modified, they at least need to make sure that the application works properly and looks good.
The Anti-virus Times recommends
If you are going to buy a smartphone, you will most probably end up with a device running an operating system from either Google or Apple. Even if it is shipped under its own title. So, if you come across an operating system name that is unfamiliar to you, find out which platform the operating system is based on.