Terminology

Other issues in this category
(40)
Carding
Read:

6776
Comments:

2
Rating:

44
Monday, July 11, 2016
This issue's material has been provided by Anti-virus Times project participant Alexander Sh. from Belarus
Bank cards are the most popular and convenient way to pay for goods and services.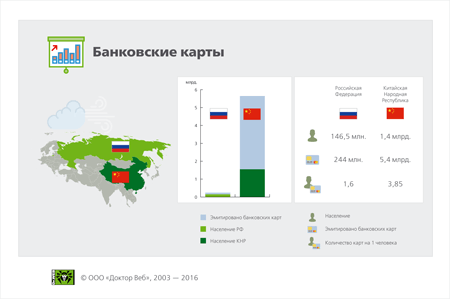 Their number is increasing worldwide, and gradually they are superseding cash. That's why criminals specialize in paying close attention to cards and the information associated with them.
Carding is a type of fraud involving trafficking credit card information that can be used to perform transactions without the card owner's consent.
Before they can begin stealing money off a card, 'carders' need to get its information. Carders are after the card owner's name, and the card's sixteen-digit number, expiry date and CVV2 code (found on the reverse side of the card).
Stolen card information can be used to pay for goods and services over the Internet and to transfer money via various online services.
Surprisingly, some users whose bank card data has been stolen may not notice that money is being withdrawn from their accounts.
To acquire card information, criminals resort to all kinds of unlawful schemes—these will be described in detail in the next two issues.
The Anti-virus Times recommends
Use a different card to pay for routine purchases.

Important!

Choose a card that complies with the EMV standard—a contactless card equipped with a microprocessor chip.
Get all the information about the card's features and usage rules from the issuing bank.

Important!

When signing the agreement, read the section describing the rights and obligations of the parties carefully. Strictly follow the bank's instructions to keep your confidential information safe.
Do not keep large sums of money in the account associated with the card you use to pay for routine purchases.

Important!

Credit money to your account only if you're going to use the card and only for the amount you are going to be paying.
Set an acceptable limit for the transactions you'll be making with the card, i.e., how often you'll use the card, the size of the purchases you'll be making, and where you'll be using it geographically.

Important!

If you are not currently using your card abroad, disable the option to do so; and, if you are going abroad, enable it and notify the bank's support service of your plans.
Review your card's receipt and payment information regularly.

Important!

Make sure that your mobile device is protected by an anti-virus and that you enable SMS transaction notifications to ensure that your device stays secure.
If you suspect that your card information has been compromised, block your card immediately.

Important!

Notify the bank about the incident and request a replacement card.