Just email

Other issues in this category
(24)
Linked threats
Read:

9461
Comments:

11
Rating:

16
Friday, November 29, 2019
Malware is often dispensed through emails. One way to avoid infection is to filter out executable attachments in your email messages. For example, Microsoft Outlook traditionally hides files with names that have certain extensions. The list of unwanted file types has recently been expanded.
The "forbidden" file types blocked by Outlook on the web now include Java files (.jar and .jnlp), Python (.py, .pyc, .pyo, .pyw, .pyz and .pyzw), PowerShell (.ps1, .ps1xml, .ps2, .ps2xml, .psc1, .psc2, .psd1, .psdm1, .psd1 и .psdm1), digital certificate files (.cer, .crt and .der), as well as vulnerability exploits (.appcontent-ms, .settingcontent-ms, .cnt, .hpj, .website, .webpnp, .mcf, .printerexport, .pl, .theme, .vbp, .xbap, .xll, .xnk, .msu, .diagcab and .grp).
As a result, the number of blocked file types has reached 142. That fact alone wouldn't have been a sufficient reason for this publication; but we have alarming statistics indicating that
in the second quarter of 2019, 85% of spam messages contained links to download malicious files instead of traditional attachments.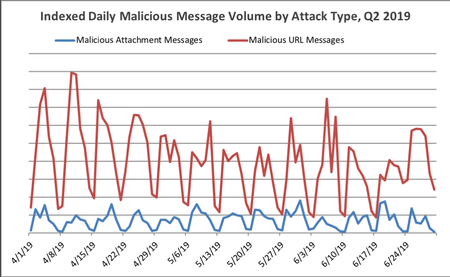 Indexed Daily Malicious Message Volume by Attack Type, Q2 2019
Spammers have realised that users are now wary of malicious attachments and serve recipients with bogus URLs far more often than ever before. After all, email clients can't filter out links.
The Anti-virus Times recommends
Use the Dr. Web Parental Control. It will prevent you from navigating to a bogus site.
Let SpIDer Gate check your Internet traffic for malware.
If you have a different anti-virus (not Dr. Web), at least verify the safety of the URLs you open with the Dr.Web Link Checker.
And of course, never open suspicious attachments. In previous AVT issues featuring the #spam hashtag, we told our readers how they could recognise spam emails.