Configure it!

Other issues in this category
(40)
Registry sacrificed to free up disk space
Read:

19048
Comments:

9
Rating:

14
Thursday, August 8, 2019
It appears that complaints about Windows occupying too much disk space eventually got through to Microsoft, and the corporation took steps to ensure that the operating system doesn't take up so much disk storage capacity. But, it has done so in its own inimitable fashion.
Do you think that Microsoft got rid of downloaded program distributions, unneeded drivers, the huge volumes of error reports that have accumulated over the years, or the contents of the winsxs folder, or the multitude of programs and utilities that nobody knows anything about? Of course not! All that data is vitally important. Instead, in their fight to free up disk space, they chose to eliminate… registry backups.
The fact that Windows 10 no longer backs up the registry was reported in November last year. At that time, many IT specialists regarded it as a problem caused by the October 2018 Update. However, Microsoft clarified that everything was operating as intended. According to Microsoft, "Starting in Windows 10, version 1803 (the April 2018 Update), Windows no longer automatically backs up the system registry to the RegBack folder.
This change is by design and is intended to help reduce the overall disk footprint size of Windows."
"If you browse the \Windows\System32\config\RegBack folder in Windows Explorer, you will still see each registry hive, but each file is 0KB in size".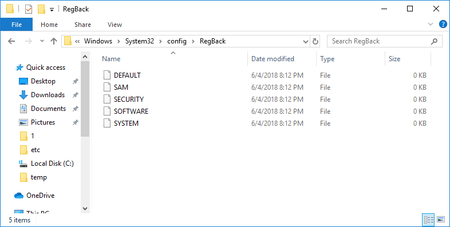 One can't say that the registry and its backups have a low disk footprint. On a randomly picked Windows 7 machine, that folder occupied over 100 MB. That's a significant portion of disk space, but in our testing setup, Windows 10's Windows directory had gobbled up 22 GB of disk storage.
With that in mind, 100 MB appears to be a small price to pay to be able to restore a registry that got corrupted as a result of a power outage.
To make Windows create registry backups again, use the registry editor: Start → Search → regedit.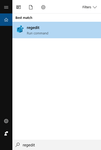 Start the utility and navigate to HKLM\System\CurrentControlSet\Control\Session Manager\Configuration Manager.

Create the registry entry EnablePeriodicBackup with a DWORD value.

Set the value to 1.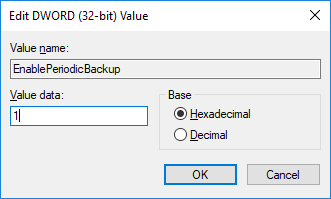 Close the registry editor and reboot the machine to apply the changes. You can find a complete guide here.
The Anti-virus Times recommends
To avoid permanent data losses (including things you've been working on for quite some time, photos, and any other files that can't be otherwise recovered), create backups. Unfortunately, many people remember that this is an important thing to do only after their system's operation has been disrupted by encryption ransomware, a hacker attack, or a power outage. The fact that Windows 10 no longer creates registry backups by default is yet another reason to back up your data regularly.