Android territory

Other issues in this category
(22)
How many Trojans can one smart phone hold?
Read:

10718
Comments:

2
Rating:

9
Monday, January 21, 2019
In 2010, when Dr.Web for Android had just appeared, Doctor Web made it available to users free of charge. Back then, the number of Android-targeting malicious programs was insignificant, but because the platform was rapidly gaining popularity, we anticipated the upcoming boom and decided to get ahead of the curve by helping to protect our customers' devices.
Since then, many things have changed. Android has spread throughout the world and is now gaining ground over desktop operating systems. In addition to running smart phones and tablets, the green robot has found its way into all kinds of smart devices and even into cars.
Some once-illusive threats have become real. Mobile botnets now encompass hundreds of thousands of devices, while news posts about banking Trojans appear with alarming regularity, and an anti-virus has become a smartphone owner's inseparable companion.
But some people still believe that Android-targeting malware is nothing but a myth. We won't argue with them but instead will quote a message received from one of our subscribers on social media:
Hello,
My Android 4.2.2 tablet was infested with tons of malware. I scanned it with another popular anti-virus, which assured me that everything was fine. But whenever I connect to the Internet, the tablet downloads all kinds of software and installs it without my consent. Ads pop up. Then I installed Dr.Web. It detected 16 malicious programs.
Sixteen malicious programs on one device is no joke.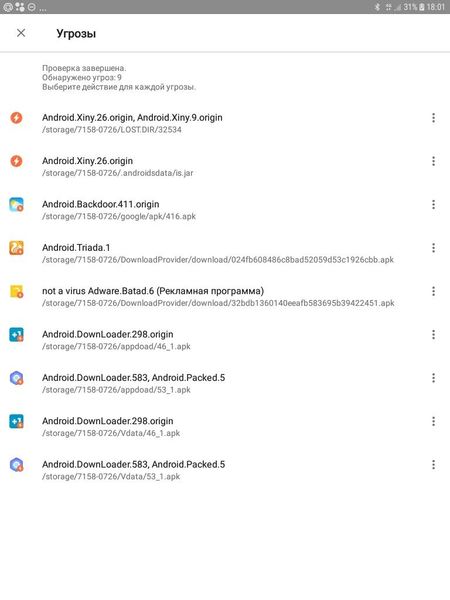 Android.Xiny – programs are common Trojans. Some of the species were spread in the guise of legitimate apps via Google Play. As a rule, they display annoying ads and can also relay system information to a remote server and download and install other applications when commanded by the server. Devices that get infected with Android.Xiny malware become part of a botnet.
Android.Backdoor.411 – is a true spyware all-rounder that can access a wide range of information, including location data.
Android.Triada – programs are common banking Trojans that not only enable criminals to steal money from victims' accounts quickly and quietly but also have a host of other malicious features.
The list also includes adware and a dozen Trojan.Downloader programs, which are primarily intended to deploy other malware on smart phones. Such programs are dangerous because they can deliver virtually any software to a device, whether it be an adware program, encryption ransomware, or a banking Trojan.
As you can see, malicious programs for Android do exist, and Dr.Web is very good at neutralising them. By the way, don't forget that users who purchase Dr.Web Security Space for their desktops get mobile device protection as a free gift.
#Аndroid
#mobile
#Trojan
#Google_Play
#botnet
#adware
#spyware
#Dr.Web_vxCube
The Anti-virus Times recommends
Take the security of your mobile device seriously. Use an anti-virus; never install programs you've obtained from dubious sources; and always check the permissions requested by the applications you are about to install.
And, if you are a system administrator looking for a detailed log of Android application activities, take advantage of our cloud-based analysis service Dr.Web vxCube. After all, Dr.Web vxCube 1.2 now also supports Android!