Configure it!

Other issues in this category
(38)
From the Dr.Web mail pouch
Read:

8766
Comments:

3
Rating:

8
Friday, December 14, 2018
We purchased a Dr.Web Mail Security Suite (Anti-virus)
+ Control Center (LBP-AC-12M-3000-B3) license.
Is it a standalone product or does it have to be
used as part of Dr.Web Enterprise Security Suite?
A request submitted to the Doctor Web support service
And here is another epigraph-worthy request, albeit one that is way too wordy.
We purchased the ESS product for 200 users, and now we also need to protect our corporate MS Exchange server. Could you clarify whether you have a Doctor Web package for MS Exchange with a per-mailbox license? We purchased ESS, but you call it Mail Security Suite; is that right? And there's also the Doctor Web product SMTP proxy. Do we have to purchase it? Look, my commercial proposal indicates that I can purchase Mail Security Suite + Control Center for six months (to cover 250 users); we also purchased software for desktops for 50 users. The Security Suite doesn't include the anti-spam. What about SMTP proxy? Do I have to buy it, too? If I don't, it should be Mail Security Suite +CC+ SMTP proxy, right? So it's like an intermediate layer for the MS Exchange server—it filters traffic before it gets to MS Exchange. So if it's an anti-virus security element for MS Exchange, why is it licensed separately? That doesn't seem right. Just include it in the license and charge more. Since it's the first component needed to protect a mail server, everyone needs it.
We seldom discuss corporate Dr.Web products in Anti-virus Times issues. But today we'll talk more about licensing and what systems can be protected using our software suites.
Let's start with licensing. It's not as complicated as it may appear.
Initially, Doctor Web marketed its software as separate products. If a customer needed Dr.Web for MS Exchange, they purchased the corresponding product. If they wanted to protect their IBM Lotus Domino software, they were offered a product with the corresponding title. For readers who don't know what we are talking about: we are discussing corporate solutions that receive and process email.
But it turned out that the employees tasked with purchasing an anti-virus didn't know which mail server software their company was using. And more often than not, our partners who were negotiating deals with potential costumers didn't know that either. So their conversations with their customers looked like this:
- We need to protect our email.
- OK. What mail server are you using?
- ???
And that didn't work very well. If customers weren't able to get what they wanted, they were likely to try their luck with our competitors' solutions.
That's why we decided to make it easier for our partners to sell Dr.Web software.
All products were consolidated into suites for desktops, servers, mail servers, Internet gateways… And all of them became part of Dr.Web Enterprise Security Suite.
Thus, we have a solution that meets the requirements of all corporate customers—all possible options are factored in. The suite includes product groups, and each product is meant to be used with specific software.
A brief digression: Did you notice that we used the word 'server' twice? Customers often mix up terms and don't understand how anti-virus protection works. We'll try to explain all of that in one of our upcoming issues.
But for now let's get back to licensing. Customers no longer need to think about what they actually need. Looking for an anti-virus solution to keep your email malware-free? Purchase a Dr.Web Mail Security Suite license—it can be used to protect any mail server.
Simple and convenient: customers don't need to understand technical details; they can just come and buy it.
Plus, this gives customers another advantage: Because a license covers all the products, customers who choose to switch from MS Exchange to Postfix or Zimbra don't need to purchase a new license—they can use the one they already have with their new mail server solution.
At the time we introduced this new approach to licensing, only one Dr.Web product was available for gateways: Dr.Web for Internet gateways Unix. It was meant to be used with software that facilitates the flow of data between networks, and that's why Dr.Web for Internet gateways Unix became part of Dr.Web Gateway Security Suite (GSS). Later we released solutions for products that process traffic as well as email. What software suite should include them?
After some consideration we decided that Dr.Web GSS should include products that lack extensive mail-traffic filtering capabilities and whose primary job it is to guard network gateways. Meanwhile, applications that protect mail traffic are consolidated into Dr.Web Mail Security Suite.
From the new licensing history of Dr.Web
The Anti-virus Times recommends
How can you choose the license you need?
We have already covered the first step—understand what it is that you need to protect. The second step involves choosing an appropriate license and the options that go with it.
To do so, go to our website, select the appropriate software suite, and navigate to the Licensing section.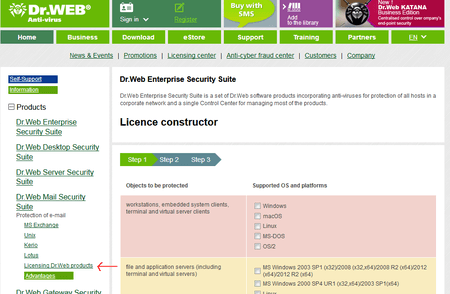 Because this issue is devoted to email, let's see how Dr.Web email protection products are licensed: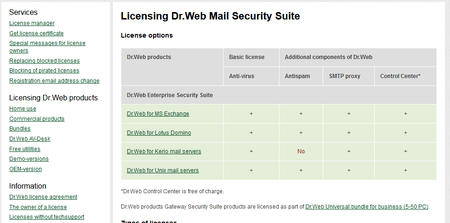 As you can see, the software suite includes applications for Microsoft Exchange, Lotus Domino, Kerio, and a variety of mail server software for Linux, FreeBSD, and Solaris.
The basic license—the cheapest one—will only protect you from malware. You can additionally purchase the Anti-spam (we'll talk more about that in another issue) and the SMTP proxy software (we'll also discuss this software in more detail some other time).
Meanwhile, the Control Center is not for sale—it is available free of charge. Install it if you need it. Why is it mentioned as a license option? So that our customers can see it is available; otherwise they may be unaware that they can control our applications remotely.
A question for inquisitive readers: when did Doctor Web introduce remote administration for its software, and why?
Why is the anti-spam not available as an option for one of the products? All of our mail server solutions are actually implemented as plugins. In a way, they are like browser extensions. Because of this, they rely on the API from the developer of the corresponding software. If there is no API, there is no functionality. We'll talk more about that, too.
Now, hopefully, you will be able to answer the question at the very beginning of this issue.
Stay tuned—and feel free to ask questions in the comments section!