Configure it!

Other issues in this category
(36)
I can barely recognise you!
Read:

3005
Comments:

3
Rating:

9
Friday, October 26, 2018
You've probably already read our Dr.Web 12 release news. If you haven't, we strongly recommend that you do so. Version 12's numerous upgrades and innovations include the Data Loss Prevention component.
Customers using Dr.Web versions 9-11.5 may just shrug at hearing that since a component bearing the same name has long been incorporated into Dr.Web Security Space. However, in version 12 it is completely redesigned—an altogether different feature with the same name. While its primary task—to prevent data from getting corrupted—remains the same, the protection mechanisms that accomplish this have been revamped.
In previous Dr.Web versions, the component regularly backed up user-defined files and folders and used other anti-virus features to protect the copies. In version 12, the data remains under constant protection. The feature only stops working if the user toggles it off.
But we do not recommend disabling it—by doing so, you'll not only put your data at risk but also forfeit your right to free decryption, which is only granted to users who keep all of their Dr.Web protection components switched on.
To retain your right to free decryption, you'll also need to keep Dr.Web up to date—that way it can provide effective protection. Just don't turn off automatic updates, and agree to upgrade to a newer version when prompted to do so.
You aren't sure whether you have version 12 installed on your PC?
Hover the cursor over the spider icon in the system tray: If your current version is lower than 12, run the update.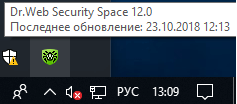 Even if your Dr.Web software was automatically updated to version 12, you will need to toggle on the Data Loss Prevention feature and configure it all over again – because it operates differently in the new version.
In the Dr.Web menu, select Dr.Web Security Center (так он будет выглядеть, если какой-то компонент Dr.Web будет отключен).
To learn how to do this, please refer to the Dr.Web Security Space documentation.
Note! Users who upgrade to version 12 from versions 9-11.5 can restore files backed up by the previous version of this component. You can find out more about how this works in the Saved copies section of the Dr.Web Security Space user guide.
Also note that in version 12 Data Loss Prevention is not the only feature responsible for keeping user files safe from encryption ransomware. It is assisted by the Ransomware protection component as well as by the entire array of Dr.Web technologies.
It should be noted that the Dr.Web self-protection component ensures the uninterrupted operation of Data Loss Prevention. Because of that, any malicious attempts made to terminate Dr.Web processes are doomed.
Was that enough to convince you that Data Loss Prevention Prevention is an important and useful feature?
Then toggle it on, and configure the component.
Data Loss Prevention is available in Dr.Web Security Space 12 in all its delivery formats.
Remember, though, this component is not available under the Dr.Web Anti-virus license. And that means that should encryption ransomware infect a system and corrupt the data therein, the user won't be able to take advantage of our free decryption service.
#Dr.Web
#Data_Loss_Prevention
#ransomware_protection
The Anti-virus Times recommends
If you have already spent money on a license—or even received one free of charge—it's a shame not to use a technological marvel like Dr.Web Security Space 12 to its full capacity.