Anti-virus fallacies

Other issues in this category
(38)
Surprising graphs
Read:

2192
Comments:

2
Rating:

10
Friday, May 18, 2018
"Malware! Malware is everywhere!"—media headlines like this fuel our fears. But analysts' reports can terrify even anti-virus developers. For example, here is information from a recent report (Q1 of 2018):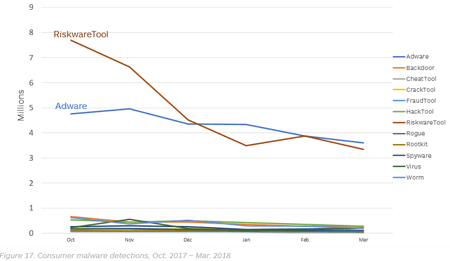 Malware production is declining month after month! The most significant decline was in the potentially dangerous program sector—specifically, with regards to mining applications.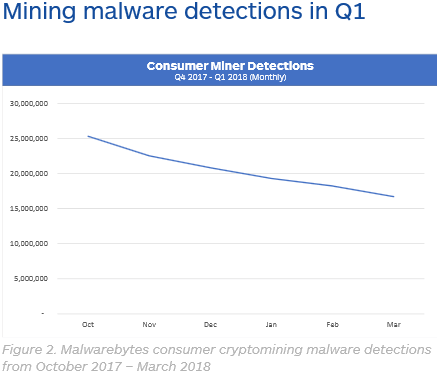 This graph indicates how many rogue mining applications were detected on home PCs. A similar trend is observed in corporate IT infrastructures—except for the spike in detections during the Christmas and New Year's holidays (the Anti-virus Times already reported on that upsurge, by the way).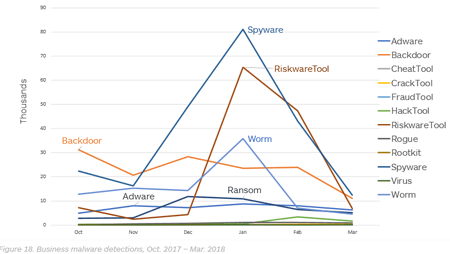 But that holiday spike aside, the decline is quite obvious.
The Anti-virus Times recommends
The activity of cybercriminals follows its own patterns. First, it can be affected by trending topics. For example, experts didn't expect an increase in the number of mining scripts for browsers because they did not think the scripts would yield much of a profit. As a result, the upswing in the autumn turned into a decline in the winter and spring.
Second, most criminals utilise tools designed by someone else. A major crackdown on exploit-pack makers forced criminals to use other malware-distribution methods, which resulted in an increase in phishing attacks.
And, finally, if certain figures or claims look scary to you, double-check them!