Configure it!

Other issues in this category
(32)
Dr.Web notifies users
Read:

1383
Comments:

7
Rating:

11
Please, can you tell me how I can set up Dr.Web to send administrator notifications
via email or some other way?
A request submitted to Doctor Web's Technical Support Service
The user is asking how they can configure a corporate Dr.Web solution so that it will send notifications about security incidents to administrators. Naturally, Dr.Web corporate solutions have a variety of ways of doing that. But this feature is available in home anti-viruses too.
To receive notifications via email, click on the icon

(the icon's appearance will change to

). Then click on the icon

and in the Settings menu, select Main → Notifications.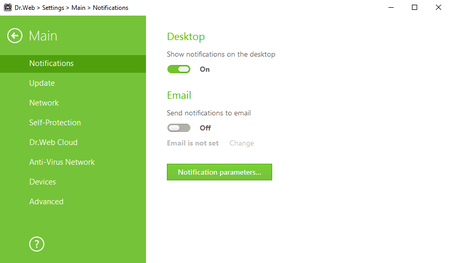 Toggle on Send notifications to email. In the newly appeared dialogue, enter the email address to which notifications are to be sent, and then specify the email account details (including the mail server and your login and password) for the mailbox through which the notifications will be sent. If the server is not on the list, select Set manually, and fill out the required fields in the subsequent dialogue.
Return to the Notifications window, and click on the Notification parameters button.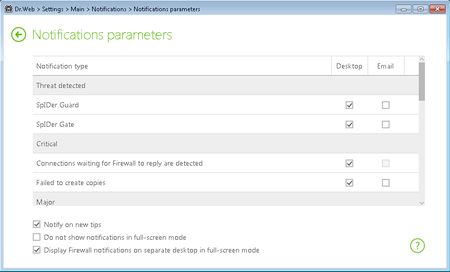 In the Email column, tick the boxes for the events you want to be notified about.
Important! If you don't want notifications about certain events to appear on the screen, clear the respective checkboxes in the Desktop column.
Notifications from the Critical category include messages about events such as errors creating protected back-ups or the presence of firewall prompts.
The Major category includes messages about the following events:
The allowed PC usage time is running out.
A device has been blocked.
Preventive Protection has blocked an attempt to access a protected object.
An attempt to change the system date and time has been blocked.
A new version of the product is available.
The virus databases are out of date.
The Minor category includes notifications about the following events:
Update error.
The allowed Internet usage time is running out.
Access to an URL has been blocked by Parental Control.
Access to an URL has been blocked by SpIDer Gate.
Parental Control has blocked an attempt to access a protected object.
These options may come in handy if, for example, you need to respond to your children's actions.
If you choose to get notifications about events related to your license, you will be notified when it's about to expire or if it's been blocked.
Notifications about certain events don't fall into the aforementioned categories and are always displayed. These include:
A system restart is required to install a high-priority update.
A system restart is required to finish disarming a threat.
A system restart is necessary to toggle on/off the hypervisor.
Permission is required for a process to modify an object.
A connection to a remote host has been established successfully over the anti-virus network.
The trial version has been activated. It is recommended that you purchase a commercial license.
#Dr.Web_settings
#corporate_security
Dr.Web recommends
You are always able to easily control your system's security!