Weak links

Other issues in this category
(18)
Copies can go up in flames too
Read:

11152
Comments:

2
Rating:

13
Wednesday, March 7, 2018
In autumn 2017, a tragic accident destroyed a unique piece of history:
Wildfires raging in Santa Rosa's Fountaingrove neighbourhood (California, United States) destroyed the historical archive related to the founders of Hewlett-Packard, the first technology company in Silicon Valley.
The destroyed archive consisted of over one hundred boxes filled with notes, correspondence, speeches and other papers. The buildings that were housing the materials burnt to the ground.
This grievous accident makes us wonder whether we are prepared for situations when all of our relevant data—on our computers and on back-up copies—could be lost. Backups created using Dr.Web's Data Loss Prevention feature, for example.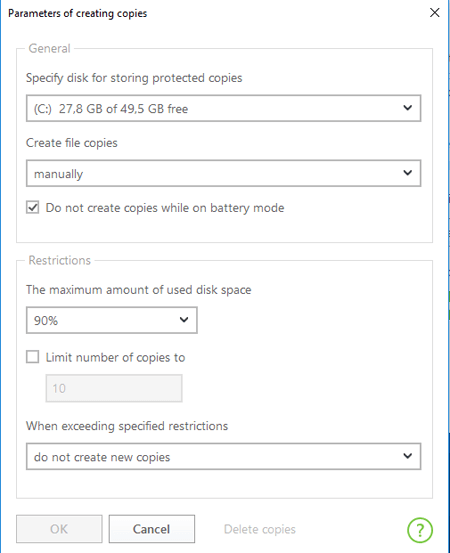 Floods, fires, rats, inquisitive kids, general cleaning—many things can cause data stored on media to be destroyed or disappear. That's why storing backups at home in the same place your PC (containing the very same data) is located is not the best idea, even though many people do just that. Creating multiple backups and storing them in remote locations is a more sound approach. For example, you could leave them in a second home, if you have one, or entrust your friends with their safekeeping.
And where do you store backups of your valuable data?
On my home computer
On a second home PC
On a removable hard drive
On a removable data storage device (a flash drive)
I write it on a DVD; I haven't come up with a better idea
I use a network storage solution (NAS)
I store it in a cloud
I print the most valuable items—after all manuscripts have survived for centuries☺
#Data_Loss_Prevention
#backup
#Dr.Web_settings
The Anti-virus Times recommends
The Data Loss Prevention в feature in Dr.Web Security Space can be used to create backups, but keeping the backups safe is your job.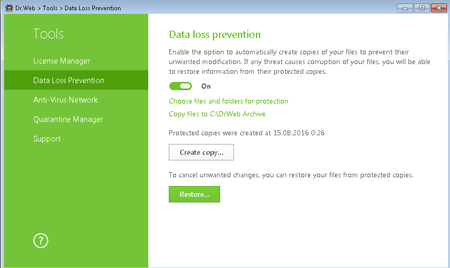 P.S. And there is another opinion:
If you don't care about your own security, what makes you think someone else will be interested in your problems? Pay or die!
That sounds a bit rough, but he has a point. Asking people to do otherwise usually doesn't work.