Con artists

Other issues in this category
(24)
Waiting for a miracle
Read:

1947
Comments:

1
Rating:

43
Friday, June 3, 2016
Health information is considered personal data. If hackers find out someone is suffering from some ailment, they can harm that individual by blackmailing them, manipulating them in order to derive some benefit; in other words, they can commit crimes.
Often attackers begin their search for information about someone's ailments by analysing social media. After acquiring such information, they can, for example, send you a letter offering some sort of treatment. They expect that their e-mail will interest you and that you'll open the attached document. As a result, instead of a treatment, infection awaits you: the data on your PC will be corrupted by encryption malware.
Another way to harm people who are suffering from some infirmity is to send them a spam message advertising useless or even dangerous medicine that can harm not only their wallet, but also their health.
Surely, more than once you've received e-mails about the miraculous/fast/easy/hassle-free (sometimes even free-of-charge!), etc., cure for an illness — the promise of a miracle.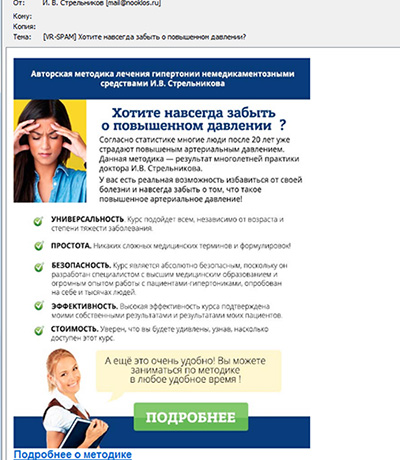 Any lie is immoral, but this kind of trickery is the perfect example of cynicism, because it feeds off the human fear of disease and physical and moral suffering, and the natural desire to recover as soon as possible.
The Anti-virus Times recommends
If you have fallen ill, do not wait for a miracle — seek qualified medical advice.
Protect your system with an anti-spam (like the one incorporated into Dr.Web Security Space). This component will protect you from information that may hurt you. After all, dashed hopes for a miraculous recovery also cause psychological trauma.
If your anti-virus does not incorporate an anti-spam, delete all spam without reading it. Modern scammers write e-mails about "healers" and magical medicines skilfully and convincingly. If you don't want to become a victim of fraud, it is better to avoid reading spam messages by deleting them from your mailbox.