Just email

Other issues in this category
(24)
Buried beneath spam
Read:

9947
Comments:

2
Rating:

9
Wednesday, November 8, 2017
We once received this reader's comment to one of our AVT issues:
A couple of years ago I came across a website where you could simply enter a CAPTCHA code every hour to earn a small portion of a bitcoin. So, for interest's sake I entered the code several times a day and received the little morsels. All in all, I spent about one-and-a-half to two months in a row entering the CAPTCHA codes. When I decided to pull out my money, it turned out that my earnings roughly equalled one dollar. Then the bitcoin exchange rate began to increase, and the higher it got, the lower the per-CAPTCHA rate became. I realised that the game wasn't worth the candle and gave it up. The total time I spent entering the codes could surely have been put to better use. I spent the dollar on licensed software offered under a promo on a site where bitcoins were accepted as a means of payment.
That's an example of a story that has a happy ending to it. But that's not always the case…
One fine day, a monotonous influx of spam carried a message stating that some software development team had designed ground-breaking applications. According to the email, a multitude of good people, all independently from each other, suddenly decided to share this information with the general public.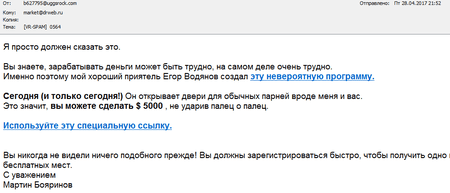 Surely, astute readers in our project already see that something's not right.
The message is not addressed to a specific employee but rather to a group of people.
There are no salutations either.
The signature doesn't feature any contact information.
The benefits appear to be enormous.
Easy money is being promised.
One has to respond to the message quickly.

Many similar emails were received (this, by the way, is another hallmark of spam). This clearly demonstrates how modern-day mailings work: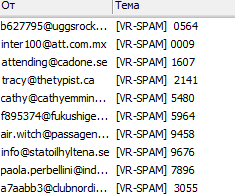 Message content is modified. In our case, the wording is simple, but it's obvious that names and download links change. Many users create custom spam-filtering rules based on key words and expressions, but those aren't very effective against advanced spam mailings whose message text is constantly being changed.
Emails are dispatched from a wide variety of addresses. Judging by the domain names, they come from all over the world. One could also try to use an address blacklist, but can you blacklist all the servers that have been compromised?
#security
#Internet
The Anti-virus Times recommends
There is no such a thing as easy money.
Despite our ongoing efforts to remind users how they can determine whether a message is spam, we keep receiving an unending stream of requests from people who've opened yet another unsolicited message and ended up infecting their system with encryption ransomware—therefore, posting an umpteenth reminder is by no means superfluous.
Don't overestimate your abilities: don't try to filter out spam manually—let Dr.Web Anti-spam do it for you. If you want to use it on your home computer, it comes with Dr.Web Security Space. The anti-spam requires neither configuration nor day-to-day training. Corporate users get Dr.Web Anti-spam when they purchase Dr.Web Enterprise Security Suite.