Evil Kitchen

Other issues in this category
(12)
Darkness under the microscope
Read:

9250
Comments:

2
Rating:

9
Monday, October 23, 2017
Media outlets claim that the darkest and most forbidden things on the Web dwell in the darknet. We already discussed this topic, and if you recently joined the Anti-virus Times, please allow us to remind you that the darknet is a common reference to websites whose location can't be determined by usual means.
For example, learning about the locations of ordinary sites is not that difficult (standard system utilities can provide you with IP addresses; then you can search for them in the public domain to determine their owners), but the standard methods won't work for sites on the darknet.
But that's an urban legend in theory. How does it work in reality?
This shows that darknet sites can be searched for and security researchers (as well as hackers) can attack them.
But let's get back to our main topic. Media outlets often describe the darknet as a universal and uncontrollable evil force. Is that the case?
Also note that the World Wide Web consists of almost a billion sites. Four thousand vs. one billion? That's not even a drop in the ocean. Well, but perhaps it is the darknet that is home to all the pornography, sites about drugs, etc.?
The conclusion is quite simple: the darknet does exist, but its danger is grossly exaggerated. Before waging war on the darknet, all the criminals and fraudsters on the Internet need to be dealt with.
#Parental_Control
#Dr.Web_settings
#Internet
The Anti-virus Times recommends
Statistics show that the lion's share of criminal content doesn't reside in the mysterious darknet but rather on the Web, and Dr.Web Parental Control can block access to those sites.
To prevent your computer from accessing malicious sites, right-click on the spider icon in the
system tray, and click on the padlock icon to gain access to the settings

(the padlock will open

). Then click on the gear icon

, and select Parental (Office) Control.
If no access restrictions have been set for certain sites, No restrictions will be displayed in the Internet section.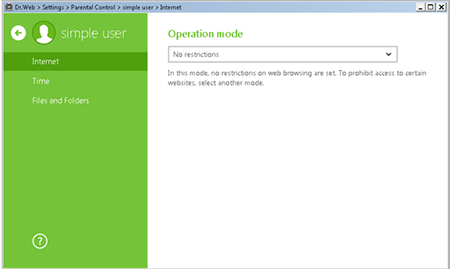 In the drop-down list, select Block by categories to restrict access to sites that fall within the predefined groups. If you select this option, you will be able to define thematic groups (adult content, violence, weapons, etc.) for sites you want blocked. Select the groups you need.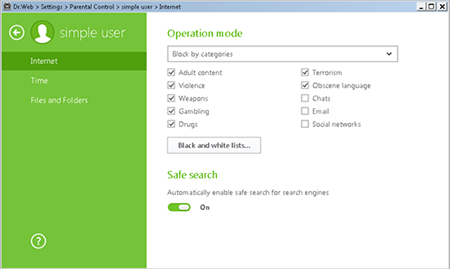 You can also block access to all websites except those added onto the whitelist. To do this, select Block all except websites from the whitelist.