Weak links

Other issues in this category
(18)
Security level yellow
Read:

3093
Comments:

2
Rating:

8
Wednesday, September 20, 2017
It feels like we're talking not about literate users
whose systems are protected by a commercial anti-
virus, but about wild users who don't want to install
an anti-virus.
Comment left on the issue "Invisible extensions"
You won't believe it, but users are strange people—all support service specialists know this. What do you think about the opinion that an anti-virus can offer protection even when it's disabled? Do you think that's nonsense and that people wouldn't think such a thing? Unfortunately, they do. Thanks to the fact that Microsoft has incorporated a "User capture" service into its OSs, we can see how users regard their security. Let's open Security Intelligence Report Volume 22: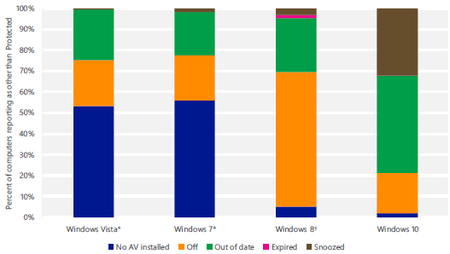 The yellow colour means an anti-virus is installed but disabled. Makes an impression, doesn't it? And the green colour means that an anti-virus is installed but hasn't been updated. Why would anyone not update their anti-virus?
By the way, the number of computers running the latest Windows versions and lacking anti-virus protection does not mean that the security situation is better in these OSs —it's just that in this case, Windows Defender is enabled by default, and users may not be aware of this.
Our utility, Dr.Web CureIt!, shows roughly the same statistics: at least 60% of the computers for which users download the utility in order to scan or cure their systems are not protected. Add to that the fact that no updates are being applied and default passwords are in use, and the result is a bleak picture.
#anti_virus
#security
The Anti-virus Times recommends
We don't know how to force users to install updates and use strong passwords. That's why we hope that you, our readers, will help your friends and colleagues by telling them about existing security threats and explaining to them how they can avoid becoming victims of hackers.