Terminology

Other issues in this category
(26)
Neither harmful nor helpful
Read:

812
Comments:

1
Rating:

10
Why does Dr.Web detect Antivirus Task Manager as an unwanted application and a threat, while many popular magazines recommend it and regard it as a useful program?
User question
The program in question is indeed neither a virus nor a Trojan. Dr.Web classifies it as an unwanted software program (Program unwanted). Let's see whether an anti-virus should react if programs of this kind are present.
Harmless programs that don't incorporate any useful features and sometimes prompt users to purchase a license in order to perform certain actions (often pointless) are categorised by Dr.Web as unwanted. They may also have functionality that can enable inexperienced users to disrupt the stable operation of their operating systems. That is, these are mostly useless applications that imitate some necessary activity or perform tasks that are already being carried out by other programs and system components.
Specifically, this category includes all sorts of Internet accelerators, Windows registry cleaners and optimisers, disk cleaners, performance boosters, driver updaters, and other applications purportedly capable of improving system performance or checking Windows for errors. In many cases, programs of this kind "detect" non-existent problems and offer users the opportunity to purchase a license in order to resolve them. Some are known to disrupt the operation of Windows—e.g., cause a system crash—because their code contains errors.
Here are several examples in news posts from Doctor Web.
In February, a potentially harmful app— Program.IPhoneOS.Unwanted.ZergHelper.1, which functioned as an app catalogue for users in China—was discovered in the official App Store. This app was dangerous because all sorts of third-party apps were being distributed through it, including hacked apps and apps that had not been reviewed and approved by Apple. As a result users were at risk of downloading Trojans or other malware with the help of Program.IPhoneOS.Unwanted.ZergHelper.1. Furthermore, this catalogue could install its own updates on devices, bypassing the App Store, and also request users to enter their Apple ID and password, which were then forwarded to a remote server.
http://news.drweb.ru/show/?i=11095
Program.Unwanted.539 - A tweaking application distributed as Auslogics BoostSpeed, it supposedly optimises and fine-tunes Windows. When run on a computer with newly installed Windows 7 (x86), the application detects 189 "problems", including:
Temporary files (created by the operating system itself during the course of its operation).
Windows registry branches with no entries (they do not significantly affect system performance).
Undeleted system log files.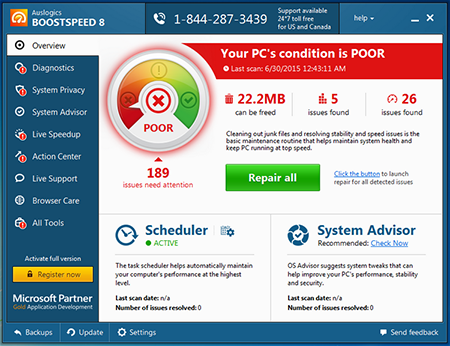 Files distributed by malware also make Dr.Web suspicious:
Adware.Mac.WeDownload.1 receives a list of applications that the user is then prompted to install. The list contains not only unwanted programs but also malicious ones, including Program.Unwanted.MacKeeper, Mac.Trojan.Crossrider, Mac.Trojan.Genieo, Mac.BackDoor.OpinionSpy, various Trojans belonging to the Trojan.Conduit family, and some other dangerous applications.
#Dr.Web_settings
#unwanted_applications
Dr.Web recommends
Unwanted programs can be called neither harmful nor helpful. If you are inexperienced in advanced Windows configuration, which involves analysing system logs and modifying configuration files including Windows Registry, you are better off without programs from this category.
If indeed you are experienced, in the anti-virus settings, enable the Ignore action for potentially dangerous programs and Dr.Web won't respond when such applications are present.
As far as recommendations about this topic on the Internet go, they remain the responsibility of those who make them.