The rules of "basic hygiene"

Other issues in this category
(69)
Dr.Web is all business when it comes to Android
Read:

756
Comments:

7
Rating:

8
Dr.Web for Android also knows how to communicate with its master. And it also does this very rarely—only about serious matters.
The status panel containing the shield icon, which changes in appearance to indicate a device's security status, is located at the top of the application's main window. Disturbing changes are good reason for the application to "talk" to you.
If the icon is green, this indicates that the device is protected.
Yellow means that the application has identified some security or licensing issues. To find out more about what's happened, tap More.
Red signals that threats have been detected. To defuse them, tap More.
If the application has registered several events requiring your attention, tapping the More button will open the Events section where all important messages are displayed.
You can use the Security Auditor to find out more about security issues on your device.
In addition, the Notification Panel is used to display messages.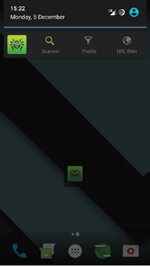 You can toggle it on/off in the General settings section.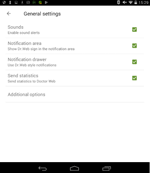 If the application detects threats, icons will appear on the Notification Panel:
– If a threat has been detected by Dr.Web Scanner;
– If a threat has been detected by the SpIDer Guard file monitor.
The notification will be displayed at the top of the screen.
If a threat is detected on devices running Android 5.0 and later, the notification panel will remain open until an action is applied to the malicious object or until the notification is swiped. Furthermore, under Android 5.0 and later, a threat notification will also appear on the lock screen, and you will be able to switch from it to the list of identified threats.
To make your interaction with Dr.Web even easier, you can also add a special widget to the main screen of your smartphone or tablet. You can use the widget to enable and disable the application. You can add it to the main screen the same way you add other widgets:
Open the list of available widgets
Select Dr.Web 1x1 (small).

The widget indicating the anti-virus's security status will appear on the screen.
#Dr.Web
#Android
#Dr.Web
_Security_Auditor
#mobile
#anti-virus
#Dr.Web
_settings
#anti-virus
_updates
#support
Dr.Web recommends
Of course, receiving notifications from dozens of applications installed on a device can be annoying. But you need to pay special attention to those from your anti-virus. An anti-virus only "talks" about serious matters, and our commercial products display no ads.