Encrypt everything

Other issues in this category
(23)
WannaCrypt: Is all lost?
Read:

25779
Comments:

1
Rating:

10
Wednesday, May 17, 2017
It was Friday evening, May 12, 2017. System administrators had left for the weekend and users were feeling relaxed when, out of the blue, shocking news erupted about a mass WannaCrypt ransomware infection. We'll talk about the ransomware species in detail in another issue. Now let's see what you can do if you are worried about whether or not your anti-virus can detect this dangerous threat.
Alas, few news posts provide enough information to help users recognize the threat. Things are easier if a post contains hashed values that help identify a certain file. In this case, these are files that are part of the ransomware or any other malicious program.
For the first WannaCrypt strain, the list of hashed values (since we're talking only about the action sequence, the values below represent only some of the files) is as follows:
Name : 07c44729e2c570b37db695323249474831f5861d45318bf49ccf5d2f5c8ea1cd
LastWriteTime : 5/14/2017 5:56:00 PM
MD5 : D724D8CC6420F06E8A48752F0DA11C66
SHA2 : 07C44729E2C570B37DB695323249474831F5861D45318BF49CCF5D2F5C8EA1CD
Length : 3723264
Name : 24d004a104d4d54034dbcffc2a4b19a11f39008a575aa614ea04703480b1022c
LastWriteTime : 5/13/2017 7:26:44 AM
MD5 : DB349B97C37D22F5EA1D1841E3C89EB4
SHA2 : 24D004A104D4D54034DBCFFC2A4B19A11F39008A575AA614EA04703480B1022C
Length : 3723264
Name : 32f24601153be0885f11d62e0a8a2f0280a2034fc981d8184180c5d3b1b9e8cf
LastWriteTime : 5/14/2017 4:11:45 PM
MD5 : D5DCD28612F4D6FFCA0CFEAEFD606BCF
SHA2 : 32F24601153BE0885F11D62E0A8A2F0280A2034FC981D8184180C5D3B1B9E8CF
Length : 3723264
Then, to get detailed information, go to virustotal.com and open the Search tab: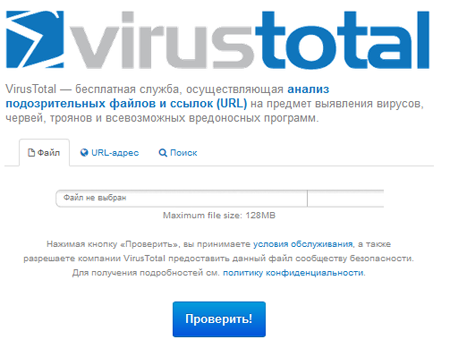 Here, enter the hashed value into the search field

and get the result: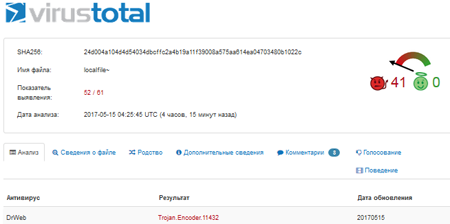 #Trojan.Encoder
#encryption_ransomware
#ransomware
The Anti-virus Times recommends
If your anti-virus is Dr.Web, this wave of WannaCrypt attacks hasn't caused you a headache. But stay vigilant.