Persona (non) grata

Other issues in this category
(25)
Houston, you have a problem!
Read:

1854
Comments:

1
Rating:

19
Tuesday, April 18, 2017
Internet fraudsters and virus makers take advantage of their victims' feelings of fear and panic. For example, those feelings can compel them to install anti-antivirus programs or turn them into targets of phishing attacks. However, attentive users may notice that a notification or message they've received has nothing to do with reality. But here attackers have found a solution too!
If you go to the Control Panel and select Administrative Tools → Computer Management, you will see a window that, among other things, contains information provided by the applications running in the system. Let's view some entries from the Critical and Alerts categories: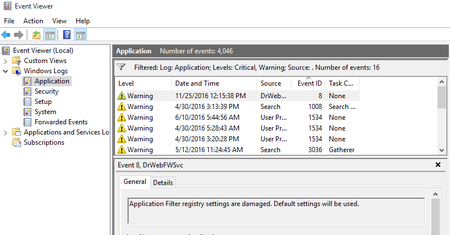 Here is a potential problem that your support service would probably be interested in knowing about.
Some of BleepingComputer's journalists discovered a new fraud scheme under which scammers offer users the application Event Monitor. The program is constantly monitoring the Windows Event Log, and whenever an application terminates abnormally, the monitor displays pop-up warnings.
The notifications about system issues contain a support phone number for users to call. If a device owner does call the number, they'll reach fraudsters who will do their best to convince the user that they need to purchase various useless applications and services.
That is, users are told that there really is a likely problem! And it doesn't matter that in fact there is no problem. What's important is that there's a reason to call support. #social_engineering #psychology #Windows #support #fraud #security
The Anti-virus Times recommends
Make sure that you know the real number of your security provider's support service. This will help you avoid the situations described above.