Spies are everywhere

Other issues in this category
(25)
Look, they're listening in on you
Read:

1785
Comments:

3
Rating:

43
And, here we are again, witnessing yet another high-profile leak:
On March 7, 2017, Wikileaks began publishing Vault 7 classified documents belonging to the CIA. The first portion of Year Zero contains 8,761 files including lists of various malicious programs, dozens of 0-day exploits and their payloads, and remote administration software accompanied by the corresponding documentation. The entire document series includes hundreds of millions of code lines.
There is an exploit for Samsung TV sets (those equipped with a microphone). Codenamed Weeping Angel, the exploit was designed in cooperation with British intelligence MI5/BTSS. The program adds the Fake-Off mode to a TV to make it appear to be switched off and simultaneously record room conversations and send them over the Internet to the CIA's server.
Interestingly, the exploit for smart TVs is designed by the Embedded Development Branch (EDB) division. This means that we are in for even more revelations involving malware for smart devices and systems that facilitate control over critical objects.
The news was hardly surprising for security experts—after Samsung warned users about the danger, it was only a matter of time before programs of this kind would emerge.
The company warned its customers that they shouldn't be discussing personal matters in front of their Samsung TVS.
The TV listens in on room conversations, waiting for commands and questions that people may address to it.
Samsung's statement also indicated that Smart TV users would always know whether or not the TV is listening to them because when voice commands are enabled, a microphone image is displayed on the screen.
http://www.bbc.com/russian/society/2015/02/150209_samsung_listening_tv
In fact, the leak confirmed a long-known trend: the emergence of malware for a certain platform usually correlates with the growth of that platform's popularity among users.
Some documents show that the CIA was also trying to develop programs that would infiltrate automobile navigational software.
Stay tuned for shocking new announcements!
#IoT
#security
#monitoring
#Android
#exploit
#Dr.Web_settings
Dr.Web recommends
So far, no warnings have been issued about the risk of data leaks from Android TV devices. But, owners of those devices would be wise to make some advance preparations. Protect your Android devices, including those running Android TV, with Dr.Web Security Space for Android.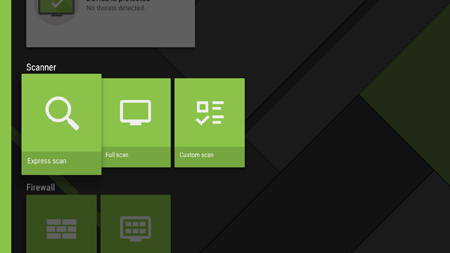 To scan the system for unknown malicious programs, on the main screen, select Scanner and the desired scanning mode: Express, Full, or Custom.
Dr.Web Security Space for Android is available free of charge to users who purchase Dr.Web products to protect home PCs and Macs.