Configure it!

Other issues in this category
(40)
Devote time to your security
Read:

2762
Comments:

2
Rating:

44
Friday, February 3, 2017
In the issue "Taming traffic gobblers", we told our readers how they can enable the firewall and control traffic usage on their smartphones. But it's impossible to do this around the clock—some applications can, for example, download updates during the night and use up your traffic limit.
How can you prevent applications from using traffic when there is no way to control them?
Go into the Dr.Web Security Space for Android settings, and select Firewall. If it is disabled, tap Enable and grant the application permission to use the VPN (Virtual Private Network).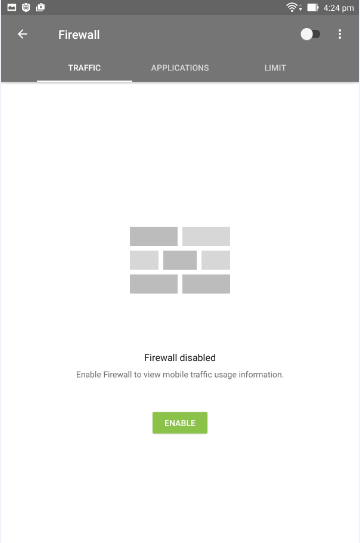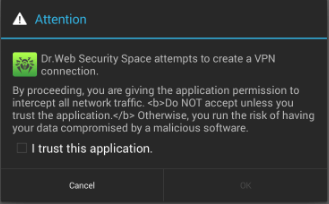 Important! Unlike programs for Windows, Android applications run as non-system software and use common features that are available to all the programs. This can have a detrimental impact on security because Dr.Web Firewall uses VPN for Android so that it can run without root privileges, but the manufacturer can disable the feature or it may turn out that it is already being used by another program. That's why you must pay close attention to notifications. If the Dr.Web Firewall gets disabled, you can tap on the corresponding notification to toggle it back on.
On the newly appeared page, go to the Limit tab and select Limit mobile Internet.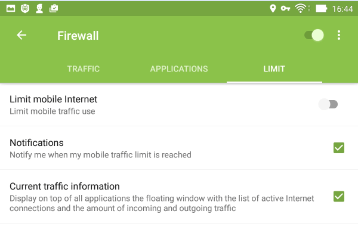 In the subsequent window, specify the required settings —the allowed volume of traffic and how long the limit is to be in effect.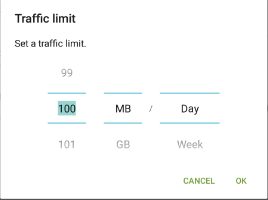 If the usage limit period is already underway, specify the amount of traffic you've already used.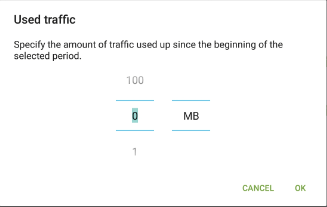 Once the configuration is complete, information about the limit and the time remaining on the limit will be displayed on the Limit page next to the diagram.
You can also enable Notifications to receive warnings when you've used up your Internet quota. To do this, tick the Notifications box in the Limit tab.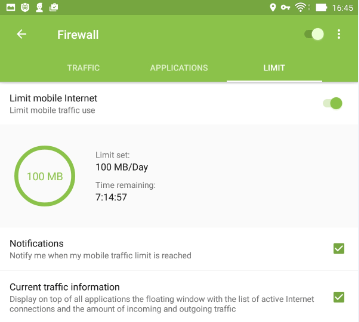 The Anti-virus Times recommends
What does a feature comparison table for the limited and full versions of a program usually look like? In the first column, only a few items are shown to be available while the second column shows that all the features are accessible. A user instinctively chooses a product with a larger array of features because they quite reasonably believe that having more features is better. But then, ironically, people acquire a full version of an anti-virus only to use some of its features.
Some Dr.Web Security Space for Android components (such as the firewall and anti-theft) are disabled by default for technical reasons. As a result, most users don't use these components. They simply don't have time to look through the settings menus or read the documentation. In the Anti-virus Times, we encourage users to take advantage of all Dr.Web's features.