The rules of "basic hygiene"

Other issues in this category
(90)
Let your anti-virus supervise all operations
Read:

3524
Comments:

1
Rating:

46
Monday, November 28, 2016
Operating systems and applications tend to do their own thing and don't give PC and smartphone users many hints about their activities. Applications contact their updating servers independently, and freeware requests and downloads advertising content.
And, you're wrong to think that, by viewing your browsing history, you'll learn about all the hosts your computer's sent requests to.
For example, here is what Dr.Web statistics show while Mozilla Firefox is being launched: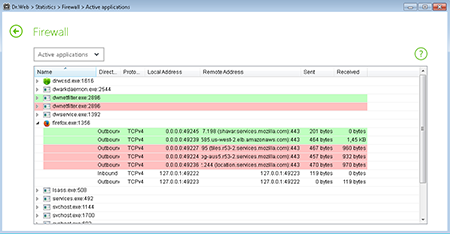 Users often notice that applications they know well begin to behave strangely.
In the course of my work, I often look through HTML and JavaScript code. Once I noticed a third-party script in the source code of a web page.
As a rule, the fact that their anti-virus contacts cloud servers and updating servers comes as a revelation to users.
Naturally, once installed, the corresponding utilities can track all requests made to servers on the Internet, but let's be realistic: without publicly available software specifications, it's impossible to determine how legitimate an application's activities are.
But this is not the real problem. Typically, legitimate programs do not contact malicious servers. Furthermore, the behavioural analysers of anti-virus software products are standing guard and in possession of lists of sites that applications can access. But one day something unexpected happens…
The company TP-LINK lost two domain names (tplinklogin.net and tplinkextender.net) that were used to configure its devices. The first domain name was used to configure routers, and the second was utilised by Wi-Fi repeaters.
Apparently, the company merely failed to renew their domain name registration and cybersquatters took advantage of it. Both domain names were registered to an anonymous owner who made them available for sale for $2.5 million per name.
Companies often neglect to renew their domain name registrations—even Google managed to do it. And, although squatters can't make any advance preparations, they can quickly get hold of a domain name and sell it to fraudsters. As a result, users can find themselves in a situation when their programs are contacting servers that are no longer legitimate.
The Anti-virus Times recommends
Even if you do not surf the web, do not disable your anti-virus. After all, other programs on your PC keep on accessing various servers, and their work should be controlled — and only an anti-virus can do that.

You can check Dr.Web Security Space statistics to learn which network node is being contacted at any given moment by a certain application. To do so, click on the icon in the system tray, and click on the icon .

Next, click on the link "Network activity", choose the application, and open the list by clicking on the triangle to the left of the program name.

Unnecessary programs cause unnecessary problems. Remove unused software.
If you are a website owner, do not forget to renew your domain name registration in a timely manner. If you are planning to be away, make sure your colleagues will be able to do it for you. If you are on sick leave, leave instructions for the person who will be filling in for you in your absence.