The office in your pocket

Other issues in this category
(3)
Find out where they put what's yours before they're out the door!
Read:

6321
Comments:

2
Rating:

46
Thursday, October 27, 2016
In practice, the BYOD principle is not only leading to a situation where employees are beginning to work longer than a legal eight-hour [in Russia] workday, but also to the accumulation of corporate information on their computers and devices—things like internal correspondence in local mail databases, contracts edited on a computer, and internal regulations and instructions that were downloaded for evening-time study. Temporary files and folders are part of that, too—how many managers know where they are and how they need to be cleaned (and more important, why!)?
But, that's not all. When a company's services are insufficient, inconvenient, and either hard to access or temporarily unavailable, situations can arise where employees begin using external services—sometimes without permission, sometimes with the tacit approval of management, and sometimes because this practice is simply acceptable within a company. Unfortunately, statistics show that most employees are using external services instead of corporate ones.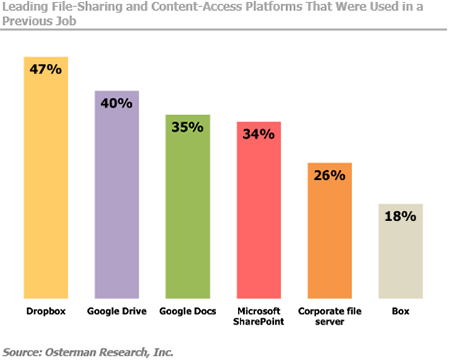 This happens for a variety of reasons, but in most cases, it's because the company's service is slow, inaccessible, or prone to lose information—whether employers like it or not, employees will use alternative external services.
By the way, after leaving one workplace, employees continue using external services at their new workplace…but using their old accounts.
As a result, external storage devices carry an accumulation of documents from several different places of work. A familiar situation, isn't it? Well, who would create a new account on Gmail or Dropbox just because they switched jobs?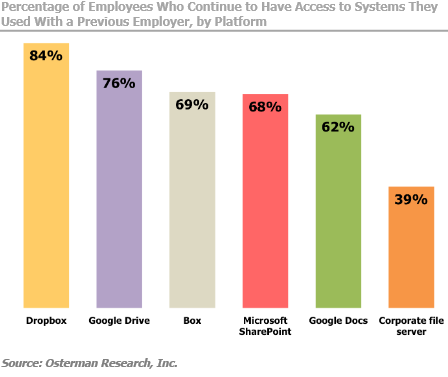 https://www.intermedia.net/assets/pdf/do_ex-employees_still_have_access_to_your_corporate_data.pdf
89% of employees have access (true, this does not mean that all of them use it) to at least one system from their previous job. However, slightly more than a half of all the data they can access is non-confidential.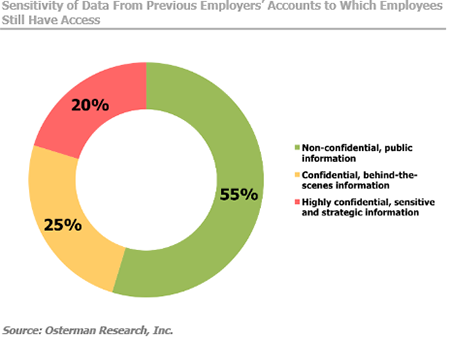 And there's more!
60% of companies do not change their passwords after employee dismissals and do not demand that departing employees surrender their passwords for external systems.
Of course, most people are honest, but imagine this situation: at a new job, a conscientious employee falls ill and gives another employee their password to Dropbox, where documents from their previous workplace can be found!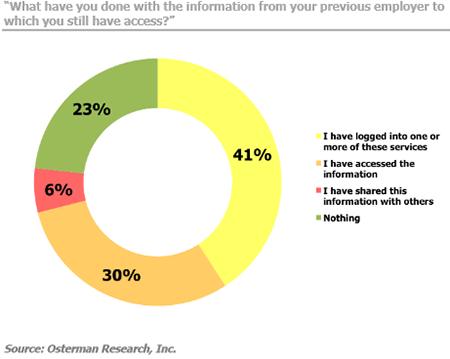 23% - a percentage that does not offer companies much peace of mind.
And what about you? Do you keep your company's information on external services that only you can access? And do you have written permission from your managers to do so? #BYOD
The Anti-virus Times recommends
Find out openly (through surveys) or secretly (through network scanning) where your employees are storing corporate documents.
A company's policy on using external services must be stated and made known to each employee.

If a company prohibits the use of external services, those services must be rendered inaccessible with the help of anti-virus software.

You can do this with Dr.Web Office Control which comes with Dr.Web Enterprise Security Suite.
Even if your business is small, you can use the programs supplied in the boxed product Dr.Web SOHO to solve this problem.
If you use Dr.Web Security Space to protect your company's hosts, Dr.Web Parental Control will assist you.

If company policy permits the use of external services, it will be good practice to manage the accounts involved at the company level. Anything can happen in life, and an employee may be absent when you require a certain document.
For employees: when taking on a job, carefully and regularly review your contract and any amendments attached to it during the course of your work for the company. Employers who've learned from bitter experience are already including clauses in contracts that require departing employees to give access to external services they've used and to promise not to use corporate data after leaving the company.