The rules of "basic hygiene"

Other issues in this category
(93)
How to chat safely in Telegram
Read:

1740
Comments:

0
Rating:

0
Tuesday, September 26, 2023
To protect your correspondence from intruders who can gain physical access to your device, Telegram offers enhanced security measures. In today's issue, we will tell you how to create a secret chat, enable an auto-delete message timer, configure a two-step verification and activate the app passcode lock.
Secret chats
Two levels of encryption can be used in Telegram: client-server and client-client. The client-server level is used in regular chats (including group chats).
In secret chats, all traffic is encrypted from device to device. This means that only you and your conversation partner can read your correspondence. No one else has such an opportunity, including the employees of Telegram. Messages from secret chats cannot be forwarded, and they are not stored on servers. Undelivered messages can only be read on your device.
How to create a secret chat
Open Telegram.
In the lower-right corner, you will see a pencil icon. Tap it.
Select New Secret Chat.
Select the contact you want to start a secret chat with.
Type your message in the input field.
After that, the message will be encrypted and sent to the recipient.
Secret chats are linked to the device. If you create a secret chat on one of your devices, it will only be available on that device.
Auto-Delete Message timer
You can set the period after which correspondence will be deleted after reading from both your device and the device of the person you're chatting with.
How to set an Auto-Delete Message timer
Open Telegram on your device.
Tap the menu icon. It is represented by three horizontal lines located in the upper-left corner of the screen.
Select Settings.
In the settings list, tap Privacy and Security.
In the Security section, select the Auto-Delete Messages option.
In the newly appeared menu, select the period of time after which messages will be automatically deleted after reading: 1 day, 1 week, 1 month or a custom time.
The timer will start when the recipient reads your message. As soon as the time runs out, the message disappears from both devices.
Two-Step Verification
Two-step verification allows you to protect your account with an additional password, which you need to enter along with the SMS code every time you log in to the app from a new device.
You can activate this feature in the app settings. To do this, in an Android-powered device, tap the menu button in the upper-left corner, then Settings → Privacy and Security → Two-step Verification.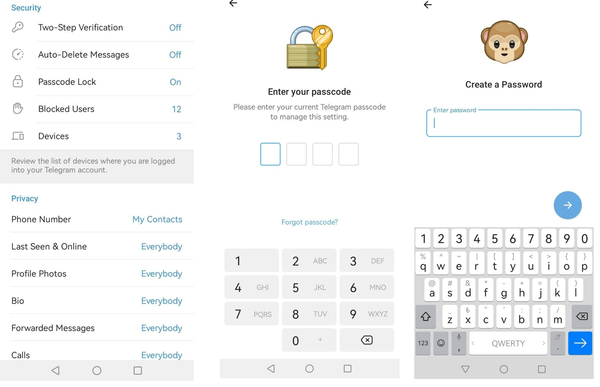 In an iOS-powered device, open Settings → Privacy and Security → Two-step Verification → Enable Two-step Verification.
Passcode lock
If someone takes possession of one of your devices and wants to view your correspondence in Telegram, they will not be able to do it without knowing the passcode.
How to set a passcode
Open Settings.
Select Privacy and Security.
Tap Passcode Lock, Passcode Lockand Face ID , or Passcode Lock and Touch ID.
Create and enter your password.
After enabling this function, a padlock icon will appear on the chat tab which serves to force block the application. If the device is equipped with a fingerprint or face scanner, you can use one of these methods to unlock the app instead of a passcode.
Restricting access to a phone number
In Telegram, you can restrict access to your phone number and only contacts from your address book will be able to see it, or you can completely close it. At the same time, the ability to find you by your phone number will also be limited.
How to restrict access to your phone number
Open Telegram on your device.
Tap the menu button in the upper-left corner of the screen.
Open Settings.
In the Privacy and Security section, select Phone Number.
Select the restriction that meet your requirements: My Contacts or Nobody.