Secure storage

Other issues in this category
(6)
Cheap passwords for sale
Read:

5253
Comments:

1
Rating:

44
Tuesday, October 11, 2016
Salespeople who bring their "own" client base when they join another company are truly valuable assets. In situations of this kind, how loyal these people are is usually disregarded. Although the Internet is full of stories about ways to increase loyalty, facts are facts:
Only 10.6% of office workers have never passed information involving trade secrets to a third party, while most people (57.2%) consider it (stealing information) a normal thing to do.
On average, every employee takes sensitive information outside their corporate network at least once every two months.
Almost two-thirds of employees (63.3%) remotely access a corporate network from personal desktops and laptops.
Are you ready to change jobs in favour of a competitor for a higher salary if you will also have to divulge confidential information?
I've already done that: — 5,3%;

I'd love to, but I've never received such a proposal:

— 20,2%;
Yes, I am, but I don't have access to confidential information of any kind: — 10,1%;
No, I fear they'll kick me out pretty soon: — 11,5%;
No, that's immoral: — 52,8%.
Have you ever used corporate data for your personal gain?
Yes, I have: — 26,8%.
I've never had the opportunity, but I'd love to: — 8,9%;
No, I haven't: — 50,8%;
I've never had access to information of this kind: — 13,4%.
SailPoint research revealed that employees are ready to sell corporate passwords for a pittance. A poll showed that with regards to large companies, every seventh employee out of 1,000 is ready to sell the password that they use to access their corporate IT environment, and some of them would do so for as little as USD 150. 20% of the respondents reported that they did not hide their passwords from their colleagues, which in no way decreases security risks. 56% of employees use the same passwords for corporate and personal needs—by making such a compromise, personal computer hackers can gain access to a corporate network, too.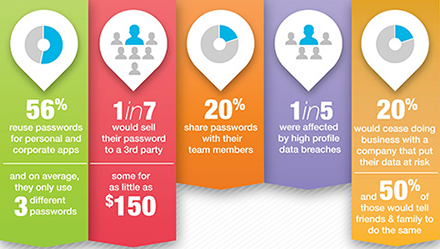 The Anti-virus Times recommends
Sad, but true: business owners can't afford to trust their employees 100 percent. That's why the Parental and Office Control components, which restrict access to all sorts of information, are not only a security measure against attackers, but also help the lazy and simple-minded resist temptation.
Centralised access control is another must-have. Alas, there are still people who don't know about solutions that provide centralised protection!
And the security of employee home computers and handhelds should be controlled, too. No one ever said that this would be easy. But, it's the only way!