Caught

Other issues in this category
(15)
Curiosity killed the fish
Read:

8588
Comments:

2
Rating:

43
Thursday, September 8, 2016
As everyone knows, there are lots of ways to catch fish. But fishing is a lot more fun if you feed the fish before you begin. The same is true of the Internet, which is brimming with all kinds of criminals. Because users don't always take the bait for easy money or cheap services, and the Office/Parental Control component blocks user attempts to visit questionable resources, cybercriminals have a problem—they have to figure out how they can make it so that users "swim" to the spot they (the "fishermen") have cast their lines.
Bulgarian information security expert Veselin Bonchev found 324 malware samples in an email dump published on WikiLeaks. Most of the samples are in attachments of emails received from hackers. The criminals sent the malicious emails to compromise users or organisations, and then the emails were published on WikiLeaks.
As Bonchev noted, the 324 malware samples were just the samples he detected and confirmed on one occasion, and, in fact, there could be many more.
It's human nature to be attracted to everything that is new, secret, and frightening.
Unfortunately, criminals can easily create a website and promote it using psychological tricks. They can also post news stories containing links to some source, or send you email containing malicious attachments or links to phishing sites. Their options are endless. So, if you let your guard down and follow these links, you can end up as "fish soup" rather than the owner of top-secret information.
The Anti-virus Times recommends
The Internet is not a place where you can relax and forget about security. Surfing the Internet without an anti-virus is like walking around the most dangerous places on earth. The experiences you'll have will be unforgettable.
We have talked repeatedly about all the possible ways you can configure Dr.Web Parental (Office) Control—la component that protects PCs. And what should those who surf the Internet with their Android devices do? Use Dr.Web

Cloud Checker

!
On the application's main screen, select Cloud Checker.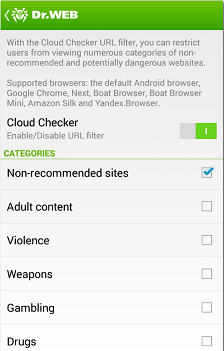 In the settings dialogue, enable the URL filter—click on the toggle next to the Cloud Checker option.
Important! By default, filtering is enabled for Internet resources.
By default, Cloud Checker blocks access to websites known to be sources of viruses, so in the Categories list, select the categories of websites you want to block. These categories are as follows: Non-recommended site, Adult content, Violence, Weapons, Gambling, Drugs, Obscene language, Terrorism.
Some users can block access to websites in the categories Email, Social networking, and Chats.
Important! Cloud Checker can control website access only via native Android browsers, and also via Google Chrome, Google Chrome Beta, Next, Amazon Silk, Yandex.Browser, Boat Browser, and Boat Browser Mini. For the browser you are using, you must enable the option to save history in order for Cloud Checkerto operate properly.