Evil Kitchen

Other issues in this category
(13)
Beyond the pale of morality
Read:

4080
Comments:

1
Rating:

43
Tuesday, September 6, 2016
We have repeatedly written about the ethics of hackers, but this news is unlike anything we've ever come across—it is beyond the pale of morality.
This is a screenshot of a message in which cybercriminals on the Darknet promoted vulnerabilities within the computer systems of major airlines.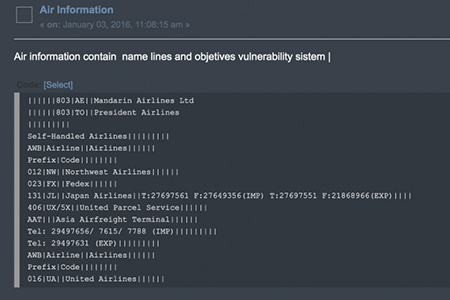 On January 3, on a Darknet black market run by Chinese state hackers, cybercriminals published an advertisement containing information about vulnerabilities within major airlines, including Delta Airlines, United Airlines, Japan Airlines, FedEx, and many others.
The advertisement was found in the "Air attack infrastructure" category, in the "Premium" section of the black market controlled by a group of hackers calling themselves "Babylon APT".
http://www.epochtimes.ru/eksklyuziv-kitajskie-hakery-prodali-v-darknete-informatsiyu-ob-uyazvimostyah-aviakompanii-delta-airline-99029103/
Among cybersecurity researchers, it's considered normal for criminals to publish information about vulnerabilities if a software manufacturer whose product was found to be flawed does not pay them for the information. But what kind of people would publish or sell vulnerabilities such as these on a black market?
The Anti-virus Times recommends
Next time you're watching a film about "good" hackers, remember that in REAL life they behave differently.