Advantages

for users who have accounts on Doctor Web's site
If you have an account, everything else will follow!
Convenient website

A Dr.Web account opens a lot of doors!

Access the website via your social networking accounts
Enjoy a single access point to My Dr.Web Portal. And if you're our partner—to the Partner portal
Submit support request forms and other website forms without having to enter personal data
Interact with other Dr.Web community members through the comments sections

Complete backup

For you, as a Dr.Web community member, we will carefully store:

All your comments
The history of your support requests even if you don't use Dr.Web products
Useful resources added by you to your personal library

Prizes and surprises

Every account owner is worthy of privileges!

Participate in the countless activities of the Dr.Web community and get guaranteed rewards—virtual rewards known as Dr.Weblings:

for each successfully passed exam;
for each comment left on news items and Anti-virus Times issues;
and for many other activities!
Exchange award points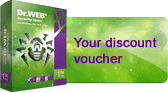 for gift certificates to get up to 50% off.