If you want to control the analysis in interactive mode, make sure your browser is not configured to block pop-ups.
As a rule, an analysis is conducted in one minute or less, but if the examiner believes that amount of time was insufficient to analyse the suspicious file thoroughly, the desired analysis time can be specified in the settings.

The file is executed on the virtual machine's desktop.
The analysis determines the file's harmfulness score (from 0 to 100); a detailed report is also provided. Reports contain the list of actions taken by an object and a video demonstration of them.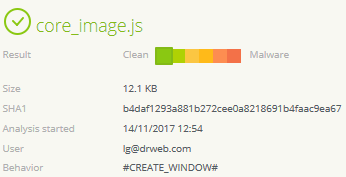 All the analysed program's actions are filmed. The recording can be used in a subsequent analysis—you can observe the malicious object in action.
You will also be provided with technical information, including the nodes the analysed file communicates with, the list of files it creates, the registry entries it alters, and much more. You can view reports in your account area or download them as archive files. Report examples.