Dr.Web + Me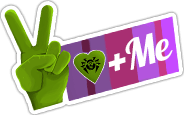 The Dr.Web loyalty programme
When you register your Dr.Web licenses (except demo and OEM) in the Dr.Web + Me loyalty programme, you'll get virtual awards called Dr.Weblings. You'll find the link to the loyalty programme registration form in a special email we send you once you've registered your serial number. This email will be stored in your My Dr.Web Portal while the license is valid and for another 60 days after its expiry.
Exchange your award points
Dr.Web + Me loyalty programme terms
Who is the owner of a Dr.Web license?
To participate in the programme, create a Doctor Web account.