Your browser is obsolete!
The page may not load correctly.
Loyalty programme

Dr.Web + Me
How can I earn Dr.Webling award points?
We greatly value your active participation in our educational and socially significant projects. As a sign of our gratitude, we give you virtual award points called Dr.Weblings which can be exchanged for discounts.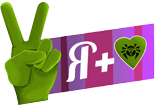 Dr.Web + Me
The gratitude programme for loyalty to Dr.Web
Let your use of Dr.Web anti-viruses bring you even more joy: become a programme participant, register your Dr.Web licenses, and receive Dr.Weblings as a reward. The number of points awarded depends on your license's parameters.
Educational projects
Knowledge is power—and Dr.Weblings! Participate in Doctor Web educational and training projects and invite your friends and colleagues to do the same—let as many Internet users as possible gain useful skills for safe web-surfing.
Other activities